Latest News
ABC News – Royal Commission's Final Hearing 14.12.2017
Marco Blanco, Founder and Managing Director of Child Safeguard appeared on ABC News on Thursday 14 December, to discuss the final hearing of the Royal Commission into Institutional Responses to Child Sexual Abuse.
Mr Blanco anticipated that the Royal Commission would recommend that organisations would be required to implement 10 Child Safe Standards, that are essential to creating a Child Safe Organisation. In addition Mr Blanco called for a National Approach to coordinate the implementation of the Child Safe Standards.
Importantly Mr Blanco noted that the handing down of the final report was a "great opportunity for Australia" to become world leaders in the protection and safeguarding of children.
Click here to watch the full interview.
---
NSWIS Awards 2017
Our Managing Director, Marco Blanco, represented Child Safeguard at the NSWIS (New South Wales Institute of Sports) Awards which was held at the Sydney Cricket Ground on 16 November 2017.
Child Safeguard is proud to partner with the Sydney Sports Incubator and the State Olympic Park Authority in the development of the Child Safe Sports App.
Child Safeguard congratulates all the winners of awards last night!
---
Royal Commission's Final Report – November 2017
After 57 hearings, hearing evidence from more than 1300 witnesses, and listening to almost 8000 survivors in private sessions, the Royal Commission into Institutional Responses to Child Sexual Abuse will hand down its Final Report on 14 December.
The chair of the Royal Commission will be presenting the National Library with a book titled, 'Message to Australia', which is a collation of personal messages written by close to 1000 messages of survivors of abuse.
This final sitting will be open to the public. Child Safeguard will be reporting on the final recommendations of the Royal Commission.
---
Supervision lacking in child drownings
The findings of research undertaken by the Royal Life Saving Society has found that in every case of backyard drownings involving a child under 5 in the last 15 years, there was a lack of active supervision.
In raising awareness of the importance of proper supervision, Ms Peden (National Research Manager, Royal Life Saving Society) told the Sydney Morning Herald "No supervised child has ever drowned".
461 children under five have drowned in Australia in the last 15 years. With summer approaching, it is crucial that children are adequately supervised when swimming.
---
New court pilot program helps child sex abuse victims to give evidence – October 2017
Child Safeguard strongly supports the NSW court pilot project which aims to reduce the trauma experienced by child victims of sexual abuse when giving evidence. The pilot project involves the pre-recording of evidence of children, which minimises the confronting experience of giving evidence in Court. Our Managing Director, Marco Blanco, stated:
"We strongly support this initiative. There is substantial research which clearly demonstrates the traumatic impact on child sexual abuse victims when giving evidence in Court. Alternative measures in giving evidence, such as pre-recorded statements, are important in ensuring that the legal process does not cause further unnecessary pain and suffering to victims and their families." 
The ABC has reported on the early success of the pilot project.
Marco Blanco has provided expert liability reports in child sexual abuse legal cases.
---
Child Safe Sports App – September 2017
Child Safeguard was pleased to present at the Sport NSW Information & Innovation Forum to present our work on the Child Safe Sports App.
Child Safeguard is partnering with the Sydney Sports Incubator (SSI), NSW Institute of Sport, and the Sydney Olympic Park Authority in the development of an App aimed at making children safer in Sports.
Child Safeguard currently works with Sporting Associations and Clubs in carrying out Child Safe Sports Audits, Providing Child Safe Training, and Drafting Child Safe Policies and Procedures.
Feel free to contact us on (02) 9252 3198 to learn more about Child Safe Sports.
---
Teachers need more Child Protection Training to deal with problematic sexual behaviour – August 2017
The Sydney Morning Herald has reported on newly published research, that asked more than 100 teachers from Government, Independent and Catholic primary schools across Australia about their experiences with children displaying problematic sexual behaviour. 40% of teachers reported problematic sexual behaviour.
"Teachers should know the questions to ask so they can recognise whether such behaviours are prompted by potentially criminal activity that a child is seeing or experiencing at home or at school", stated Dr Ey.
Dr Ey said her research showed teachers wanted to be better trained so they could identify and deal with children displaying sexual behaviours.
Child Safeguard provides tailored training workshops for teachers in Child Protection.
Contact us on (02) 9252 3198 to find out more.
---
Royal Commission into Institutional Responses to Child Sexual Abuse – July 2017

The Royal Commission has released research into the effects of child sexual abuse on memory and complainants' evidence. Royal Commission CEO Philip Reed said,
"This research may help contribute to the education of police and the legal profession on what child victims of sexual abuse can be expected to remember".
For more information visit:
---
Strengthened child protection measures now in place in NSW – July 2017
Regulatory amendments to provide greater protection to children in NSW are in force from 1 July 2017.
You can find more information at the Office of the Children's Guardian.
---
Victoria's new child abuse laws target online offending and reverse onus of proof – July 2017
As reported in the Guardian newspaper, changes to 50 sexual offences update laws to tackle abuse on social media and other online platforms.
---
 Let Kids be Kids

Play by the rules, is promoting its national campaign, 'Let kids be kids', in an effort to stop poor sideline behaviour in junior sports.
---
Sign Up to our E-Newsletter!
To keep up to date with the latest news and issues related to Child Protection, sign up to our E – Newsletter: http://eepurl.com/bFvQIn
---
Child Safeguard in partnership with the City of Sydney
Child Safeguard is proud to have delivered training for the City of Sydney as part of the Connect Sydney program.
This innovative 1 day Child Safe training workshop provides participants with knowledge, skills, and evidence-based solutions in how to build a child safe organisation through the implementation of child safe standards. Areas covered in the workshop include:
How to develop a culture that is child safe
How to design child safe policies and codes of conduct
How to implement effective risk management procedures
How to implement best practice procedures in child safe recruitment
How to respond effectively to disclosures and incidents of abuse
The training content incorporates best practice standards in child protection and expert analysis from recent developments and recommendations from the Royal Commission into Institutional Responses to Child Sexual Abuse.
Learning Outcomes
At the completion of the workshop, participants have an understanding of:
How to make your organisation Child Safe
Mandatory reporting legislative requirements
How to promote the participation of children and young people in your organisation
Working With Children Check requirements
Best practice findings and recommendations from the Royal Commission
Participants
This training workshop is designed for front line social workers, HR Managers, designated child protection officers, or any individual working in a child related organisation seeking to implement child safe best practices in their organisation.
---
Child Safeguard in partnership with the Australian Human Rights Commission
Our Managing Director, Marco Blanco, was invited to provide a presentation at the TeachMeet Human Rights Talk hosted by the Australian Human Rights Commission in March 2017.
Marco gave a presentation about the importance of Child Protection in Education and highlighted best practice guidelines in how to create a child safe school.
---
Child Safeguard Facebook Page
Keep updated on all the latest Child Protection news on our Facebook page.
---
Child Safeguard in the Media
Experts Are Calling For Tighter Protection Of Children In Dance
Posted: 20/03/2016 14:31 AEST
Updated: 20/03/2016 21:33 AEST
It is one of Australia's booming industries.
Over 418,000 children are enrolled in 6,000 dance studios across the country — a rate that is rising by tens of thousands each year.
Experts argue it is also quite possibly the largest unregulated industry involving children.
"With the surge of interest in dance — a lot of which has come from shows in America appearing on Australian television — regulatory bodies have not been able to adapt," Managing Director of law firm Child Safeguard, Marco Blanco, told The Huffington Post Australia.
The consequences of this can prove devastating.
The recent public inquiry before the Royal Commission into incidences of child sex abuse in Australian performing arts centres has shed light on a hidden and under-protected industry.
Experts are now pushing for improved child protection policies in the dance school environment.
The Risks: A Hyper-Sexualised Environment
Jemma Nicoll, 25, is a Sydney dance instructor and studio director with 20 years of experience.
She holds great concern for the hyper-sexualised behaviours that are ingrained in the industry, and is taking steps to change it.
"The whole process of sexualisation in dance places a child in the footsteps of an adult through behaviours that come down to choreography, costuming, music, even the language used by teachers," Nicoll told HuffPost Australia.
"I remember clearly situations of feeling that pressure to perform and look a certain way… that did not sit right with me as a young girl and I could never quite put a finger on why."
In 2008, Nicoll launched her own studio, Inspire Creative Arts, and now looks after 200 young students.
"The whole reason behind that studio was to provide an environment that directly contradicted a lot of the behaviours that I was seeing and the studio trends of the time."
According to Blanco, who works with organisations to implement child-safe procedures, the risks extend further.
"Within dance, you will see the proliferation of posture correction and extreme stretching exercises and these are linked to social media engagement as dancers will try to copy stretches they have seen," Blanco said.
"I understand there are different views on this as some teachers say it is imperative for instructors to touch students to correct the posture of a children and ensure injury prevention. And certainly for some types of dance, this is more relevant than others."
Despite this, Nicoll's concern is the mental health of her students.
A recent study of 1,000 Australian girls aged four to 10-years-old showed that 28 percent were dissatisfied with their physical appearance and 76 percent were fussy about their dress choices, frequently asking, 'does this look good on me?'
Ninety-six percent of respondents also loved to dance.
"These are young people who are not at the psychological developmental stage to be able to understand these messages," said Nicoll.
"Many of the people I have worked with have suffered from anxiety, body image issues and borderline anorexia. I can't say these are a direct link to the process of a child being sexualised, but there are many reports on how it does lead on to these conditions."
The Royal Commission has heard of the high-profile case of former dance teacher and studio owner, Grant Davies. He pleaded guilty to multiple criminal charges of possessing child pornography and sexual abuse between 2001 and his arrest in 2013.
"The ultimate devastating outcome are these instances of child sex abuse that we are now seeing," Nicoll said.
The Problem: A Largely Unregulated Industry
"You can think about any other industry that deals with children, from gymnastics to after school care, and there are governing practices in place in order to work in that industry," Nicoll said.
"There is no governing authority that looks after the 6,000 dance schools across the country."
Blanco certainly agrees.
"The lack of regulation is a gaping hole within the industry. We would argue that since Davies' arrest in 2013, there has been little done to properly regulate dance."
Currently, Ausdance National is the peak body for support and advocacy in dance.
Acting CEO Neil Roach says the organisation has grown out of the interests of its members in the dance community, offering a series of guidelines that detail procedures in child protection, teaching and business practice.
"We have no government role or regulatory role to play, subject to our funding, and nor do we seek one," he told HuffPost Australia.
"We give advice, we facilitate discussion and we're there to represent our members. Some of those groups are concerned and would like to see some form of regulation."
When it comes to training, the current requirements are limited.
Qualifications or certifications in dance teaching can be obtained at TAFE, The Royal Academy of Dance (RAD) or through a university degree.
But these are not mandatory requirements to become a dance teacher, says Blanco from Child Safeguard.
Qualifications are also not needed to set up a dance studio.
"When I opened Inspire, I simply went to Fair Trading, gave them my business name, paid $148 and that was it," said Nicoll.
Working with Children (WWCC) legislation remains a contentious issue. In New South Wales, all dance teachers and instructors must apply for a WWCC clearance that is to be verified with their employer before commencing work with children. The clearance is valid for 5 years, and can be reversed at any time by the Office of Children's Guardian.
But each state system varies.
Roach has repeatedly called for a standardised WWCC framework to address state inconsistencies or loopholes.
For Blanco, gaps in regulation relate specifically to training in child protection and safety.
"The onus is very much on the owners or directors of those studios to ensure that their staff have sufficient training," he said.
"The Grant Davies case study before the Royal Commission is a very valuable lesson in terms of the inability of major stakeholders to recognise when abuse is taking place, due to lack of understanding of what grooming is.
"Suspicions about his behaviour dated back to 2006-2007. People were unable to notice the warning signals and that continued until his arrest in 2013."
He believes training should be provided for all stakeholders — from business owners and parents to the students themselves.
"Imperatively, children or students need to know where they can report, who they can speak to. They have been cases where victims simply did not know who to speak to," Blanco said.
"What that comes down to is having very clear procedures in place."
A Solution
Studio owner Jemma Nicoll has taken the issue into her own hands.
This month, she launched KidsPace Code, a non-profit organisation that aims to promote child safety in dance education and in schools.
Nicoll wrote a code of conduct that aims to provide dance educators with an ethical framework of practices designed to combat sexualisation and to adopt safeguarding procedures. It has been submitted to the NSW State Parliamentary Inquiry into the Sexualisation of Children and Young People.
"Our objective is to see the code implemented across New South Wales public schools as the first goal," she said.
"The other goal is to have as many dance studios independently signing on until that framework is recognised as one that is obligatory."
For Blanco, the path towards an effective child protection framework must be comprehensive.
"Codes of conduct are very important for staff, students and even for parents and are certainly a good step in the right direction.
"A national framework must also entail guidelines for a child-safe policy including risk management procedures, complaints and handling procedures and recruitment procedures," he said.
"We would strongly recommend that a government agency would look at regulating the dance industry."
Nicoll hopes the code of practice will kick-start this process.
As industry experts await a report following the Royal Commission hearing — that is set to outline child-safe practices in performing arts institutions — this may just be the next step.
CHILD PROTECTION TIPS for 2017!
Tips on Complaints Management
An essential component of any child safe institution is an effective and efficient complaints handling system. All child related organisations should ensure that they have an accessible, responsive and fair complaints handling system. An effective complaints handling system can help resolve issues promptly and minimise conflict escalation. It should empower children to report any concerns they may have about their treatment, knowing they will be listened to seriously. It should also educate and encourage anyone associated with the organisation about what to report and who to report to. An effective complaints handling policy should include:
A Code of Conduct outlining acceptable and unacceptable behaviour in the organisation.
Information about how to raise a complaint within the organisation, and also outside the organisation.
A complaints handling checklist which provides an outline of the complaint handling steps that will be taken.
A good record keeping system to ensure complaints and discussions are recorded and filed appropriately.
Clear procedures for:

ensuring complaints are addressed and investigated in a timely manner with a recommended time frame for responding to complainants once a complaint has been lodged
contacting and notifying regulatory authorities of any complaints that allege the safety and wellbeing of the child has been compromised in any way.
keeping the complainant informed of the progress of the complaint.
maintaining confidentiality.
evaluating the outcomes of a complaint and providing future recommendations

Details of external agencies for a complainant to contact if they feel the organisation has not resolved their concern, such as the Child Protection Helpline 1800 688 009 or the NSW Ombudsman.
    An effective complaints handling strategy should include:
A wide distribution of the policy, including management, staff, parents and relatives, and the children themselves.
A distribution of the policy in an appropriate format for the intended audience, from management through to children.
Distribution of the policy through various formats and media, and languages if required.
Mechanisms to instigate regular communication about child protection generally with parents, guardians, carers and relatives, eg. newsletters, blog entries, parent meetings.
Regular training for all management and staff in identifying and reporting concerns with child safety.
Appointment of at least one dedicated child protection officer.
Procedures for regular review of the child protection policy and its effectiveness.
Mechanisms for all those associated with the organisation, including children, to provide feedback on the effectiveness of the child protection policy and of the whole strategy.
Information Brochure
Please download a copy of our 2017 Brochure: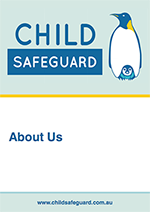 Download: Child Safeguard Brochure